If you want to make your wallet and Mother Nature thankful this turkey season, then try these cheap, easy and super fun Thanksgiving life hacks. Get the whole family involved to upcycle and recycle your way to a happy Thanksgiving.
Wow your Guests
Save money
Be environmentally friendly
Gain brownie points for being a badass eco-warrior
Perfect for apple cider, these DIY Thanksgiving cups are healthy and cute.
After Halloween, pumpkins are pretty cheap to buy, so hollow one out (use the pumpkin for a side dish) and create a unique DIY Thanksgiving centerpiece. You can paint the pumpkin white or gold for a more striking effect.
Spray paint autumn leaves red, gold, silver or white and use a sharpie to write place names for your special Thanksgiving guests.
Chocolate cookies, a small Reese's Pieces cup and a little yellow frosting is all you need for these super cute Thanksgiving pilgrim's hats treats.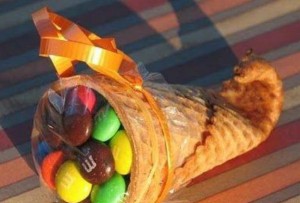 Best Thanksgiving hack? Cornucopia! Wet the end of a sugar cone in a little warm water and then curl it up and let it dry to make this dessert cup. You can fill your Thanksgiving cornucopia with ice cream, fruit or candy.
Thanksgiving pumpkin turkey welcomes guests to your home. If you don't have the plastic attachments, make the head from a smaller pumpkin and some googly eyes and the feathers and feet from cardboard.
Pine cones make excellent DIY Thanksgiving place holders. Add some recycled white or gold paint to the tips for a more striking effect.
OK, this is officially my favorite Thanksgiving thing ever. These individual little homemade pies can be baked in mason jars so that you can have cherry, apple or pumpkin and your Thanksgiving guests can pick their favorite.
These little Thanksgiving gourds are so sweet and colorful. Use a knife to carve a small opening for a tea light candle and you are good to go.
Is a whole turkey too big for your family? Do you have a small oven or perhaps your family members fight over who gets the drumsticks. This Thanksgiving hack will solve your turkey troubles; simply roast turkey pieces instead. This will save you tons of time, you can cook them to perfection and you can have as many drumsticks as you like! Cooking the trimmings in a pressure cooker will reduce cooking times and save on energy. 
If you like our Thanksgiving hacks, then pass them on to a friend – sharing is caring! Have Thanksgiving ideas of you own? Post them on our Facebook and we'll add them to this post!