When people think of tiny houses they often think of minimalist homes with environmentally friendly amenities. You wouldn't imagine a pizza oven fitting into one of these homes, which are typically less than 400-square-feet big. Yet this is exactly what Robert and Rebekah Sofia have built into their 221-square-foot home.
The couple knew early on that they wanted a space that would be vibrant and fun, while staying within budget. To this end, they planned and used as many reclaimed materials as possible. From corrugated metal to cedar planks, these materials helped keep the cost of the project low, and the entire home was built for just $15, 000, a fraction of the cost for a full-size home.
Their home, which is a stunning collection of bright colors and luxury materials, was built in just 20 months. During that time, they installed several fantastic items including a formal dining room with a chandelier, a music loft and even an outdoor soaking tub. Still, none of these items are as grand as their 800-degree wood-burning pizza oven. Built with multiple layers of cement and plaster, as well as a very thick metal door decorated with a vine pattern, this oven is the focal point of their home.
Do you need to know more about pizza ovens? Read this article for the best pizza oven reviews.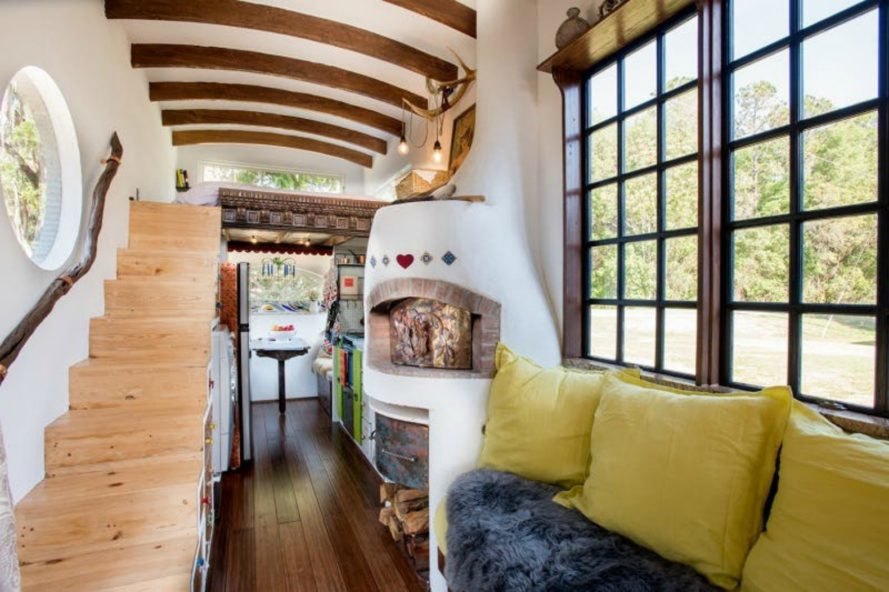 With European styling and all the amenities you could want, this home, which was featured on Zillow, really shows what you can do with even the smallest spaces.
Want to see us build a tiny house this summer? Subscribe to our YouTube Channel and we'll take you along for the ride.